November 11 (usually the Second Sunday of the month)
400 Prince George St., Williamsburg, VA
2nd Sundays Williamsburg – Art & Music Festivals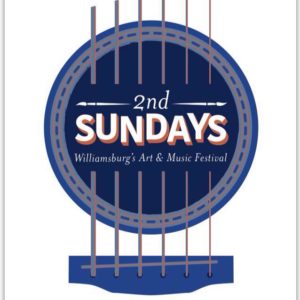 Visit this fun festival on the second Sunday of each month from March through December! It's a friendly, unique arts festival between the 400 and 500 blocks of Prince George Street—and continues in each direction along N. Boundary.
Presented by the Blue Talon Bistro, the festival features more than 75 artisans, as well as local authors of books for children & adults.
You'll find all kinds of art forms: from classic and colonial to abstract and upcycled; vintage boutique kids' clothing, paintings, pottery (hint, hint), woodworks, glass, jewelry, photography, and more!
The children's activity tent is sponsored by Artfully Yours & Grow Happy Studio.